Discover the Rockrider 300, a versatile all-terrain bike designed for adventure and thrill-seekers. Get ready for an unforgettable mountain biking experience with this reliable and affordable model.
The Decathlon Rockrider 300 is an all-terrain bike that offers an exciting introduction to the world of mountain biking. Designed by the Decathlon brand, this versatile model is ideal for beginner cyclists who want to explore rugged trails and paths. With its robust steel frame, 26-inch wheels and front suspension, the Rockrider 300 offers excellent grip and shock absorption for a comfortable ride.
This bike is equipped with an 18-speed transmission, making it easy to adjust the resistance to suit the terrain. Mechanical disc brakes provide excellent stopping power, ensuring optimum safety on fast descents. What's more, the Rockrider 300 has an ergonomic saddle and non-slip grips for added comfort on long rides.
Whether you want to venture off the beaten track or simply enjoy a ride in nature, the Rockrider 300 is ready to go with you. With its attractive value for money, this all-terrain bike offers an excellent introduction to the world of mountain biking, combining reliability, durability and riding pleasure. Whether you're an enthusiastic beginner or an occasional rider looking for adventure, the Btwin Rockrider 300 is the ideal companion for exploring new horizons.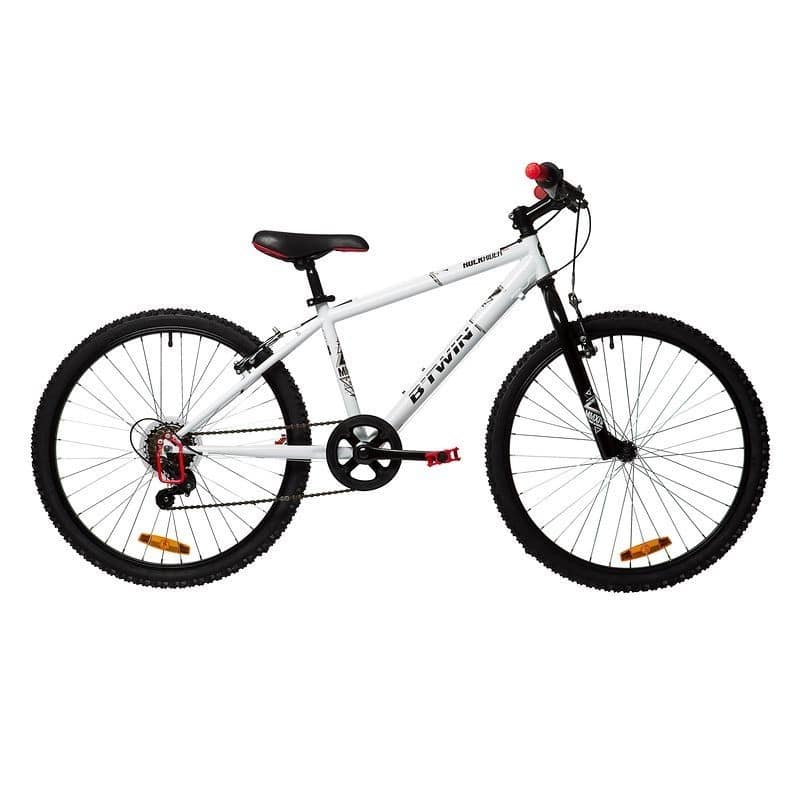 Rockrider 300 sizes
The Decathlon Rockrider 300 mountain bike is available in different sizes to meet the specific needs of each cyclist in terms of body shape.
| | |
| --- | --- |
| S | 155 – 165 cm |
| M | 165 – 175 cm |
| L | 175 – 185 cm |
| XL | 185 – 200 cm |
Weight and maximum load
The Btwin Rockrider 300, manufactured by Decathlon, is a lightweight mountain bike weighing around 14 kg. It has a maximum load capacity of 120 kg.
| | |
| --- | --- |
| Weight | 14.5 kg |
| Total weight with load | 120 kg |
Frame and suspension
The Rockrider 300 features a lightweight, robust aluminium frame, combined with a suspension fork offering 80 mm of travel. This combination provides excellent shock and vibration absorption, for optimum riding comfort.
| | |
| --- | --- |
| Frame | 100 steel |
| Fork | Steel suspension |
Derailleur and drivetrain
The Rockrider 300 features a drivetrain with a Shimano 7-speed rear derailleur and a Shimano 3-speed front derailleur. This configuration ensures smooth, precise transmission. This gives riders a wide range of options for adapting to different terrain and conditions.
| | |
| --- | --- |
| Handlebar | Intuitive twist |
| Transmission | Triple drivetrain |
Rockrider 300 brakes and wheels
The Decathlon mountain bike is equipped with V-Brake disc brakes that guarantee precise, powerful braking, even in wet conditions. The bike's wheels are fitted with versatile tyres that offer optimum grip on different types of terrain. The result is a comfortable, efficient ride, whatever the terrain.
| | |
| --- | --- |
| Brakes | V-brake rim brakes |
| Wheels | 24 or 26 inch diameter depending on size |
| Tyres | Tyres to be used on dry terrain initially |
Maintenance and warranty
Decathlon offers a maintenance service and warranty for the Rockrider 300 to ensure user satisfaction. As far as maintenance is concerned, we recommend regularly checking the various components of the bike. Brakes, derailleurs and tyre pressure, to ensure optimum performance. If any adjustments or repairs are required, Decathlon's workshops are on hand to provide a quality service.
As for the warranty, precise details may vary depending on your country and Decathlon's specific policies. However, in general, Decathlon offers a warranty on manufacturing defects and defective parts of the Rockrider 300 for a specified period. It is recommended that you refer to the information provided by Decathlon or contact their customer service department for precise information on the warranty applicable to the Rockrider 300.
Maintenance
Regular
Free service within 6 months of purchase
Warranty
Frame, stem and handlebars: lifetime
Price of the Rockrider 300
Although the Rockrider 300 is no longer available new from Decathlon, it can still be found second-hand on the market. For cyclists looking for an affordable and reliable option, buying a used Rockrider 300 can be an excellent solution.
It's a good idea to check the bike's general condition carefully. In particular, key components such as the frame, suspension, derailleurs and brakes. A thorough inspection will ensure that the bike is in good working order and ready for safe use.
It's also a good idea to negotiate the price with the seller, taking into account the age, wear and general condition of the bike. With a little research and care, it's possible to find a used Rockrider 300 that offers an enjoyable and satisfying mountain-biking experience.
| | |
| --- | --- |
| Prices | Depending on used model |
Our opinion on the Rockrider 300
The Rockrider 300 is a mountain bike that offers good value for money for riders looking for an affordable option. This bike is appreciated for its lightness and manoeuvrability. This makes it an ideal companion for outings on the trails. Its lightweight yet robust aluminium frame, combined with a suspension fork, effectively absorbs shocks and vibrations. The result is a comfortable ride.
The transmission system, with a 7-speed Shimano rear derailleur and a 3-speed Shimano front derailleur, offers a range of 21 speeds to suit different types of terrain and gradients. V-Brake disc brakes provide precise, powerful braking, offering extra safety even in wet conditions.
Wheels fitted with versatile tyres provide a comfortable ride over a variety of terrain, from muddy paths and gravel tracks to cobbled roads.
It's worth noting that the Rockrider 300 is an entry-level model. This means that it may have some limitations in terms of performance and components. It is therefore better suited to beginners and occasional riders rather than experienced mountain bikers looking for advanced features.
Overall, the Rockrider 300 offers a good balance between performance, reliability and affordability. It's a solid choice for riders who want to get into mountain biking without breaking the bank.